Lindsay Callaway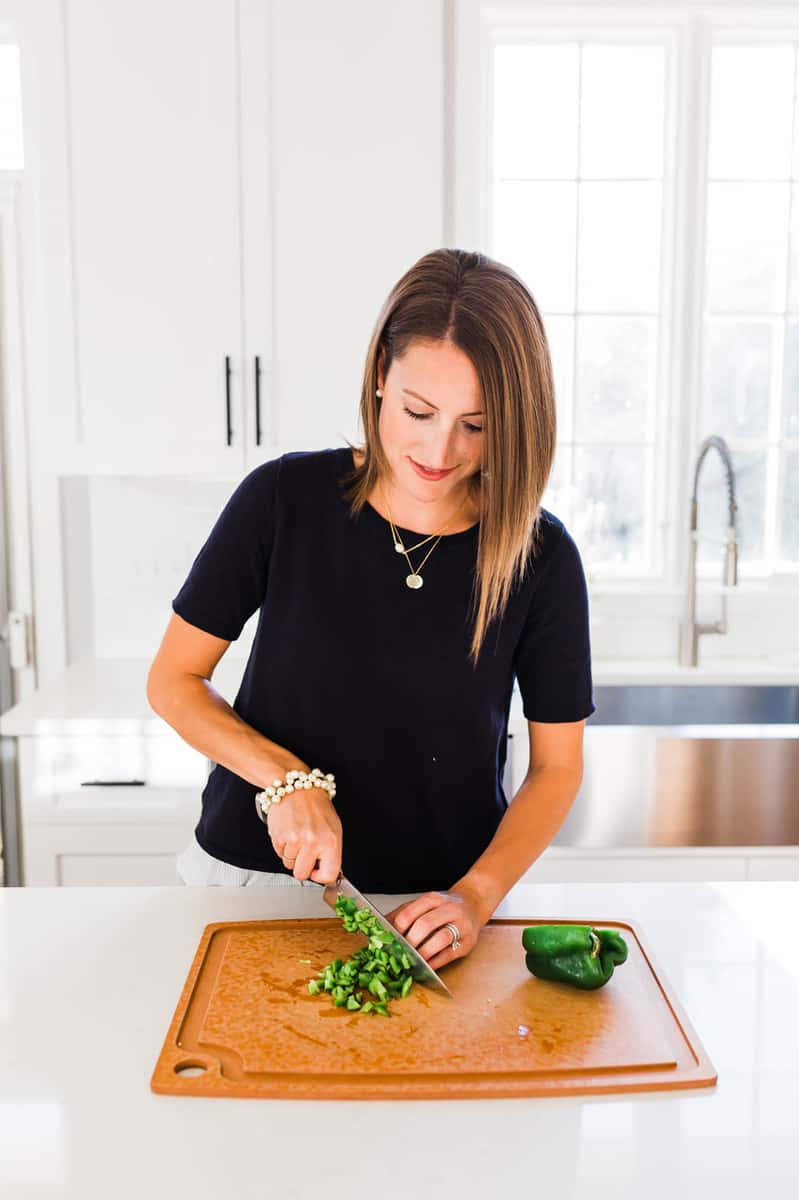 Ways to Connect
You can find me primarily on Instagram but also on Facebook, TikTok, cookinginpearls.com and by email. I love answering cooking questions and providing recommendations for kitchen tools and products.

Facebook: https://www.facebook.com/cookinginpearls
Instagram: https://www.instagram.com/cookinginpearls
TikTok: https://www.tiktok.com/@cookinginpearls
Email: Lindsay@cookinginpearls.com
Website: www.cookinginpearls.com
Get To Know Lindsay
I am a trained chef turned mom to two boys and one more on the way. I believe in cooking from scratch as often as possible to control the quality of the ingredients in our food. I love to get my boys involved in meal decisions and cooking. My 4 year old is a foodie and I absolutely love that! It always takes longer when they help me but they enjoy it and I love to share my passion with them! We live by an 80/20 model which means we eat plenty of produce and pasture raised meat with some flexibility for fun stuff like pizza and donuts. It's important to fuel your body with what it needs while also enjoying what you love! 

I share a series on social media called Taste Test Tuesdays where every Tuesday I taste a product or viral recipe and provide my honest review. It's fun to try new things and share whether or not I think it's worth the hype. I also own and operate a stationery business featuring recipe cards and grocery lists that I felt was missing in the market. 

You can pretty much always find me in my kitchen cooking or baking something!


It's hard to pick a favorite but I crave the Island Sunrise or Choco-Nuts smoothie most often!

I didn't spend too much time focusing on health or fitness until my first pregnancy. I started looking at ingredients while I was pregnant and joined a postpartum fitness group with local moms. Since then I've joined a small group personal training gym and have loved building a community there. There's so much to learn but I would love to build a career in this space someday combining nutrition and fitness...maybe preparing meals or creating recipes and meal plans!

At this current time, being in my 3rd trimester, I'm a smoothie gal! My appetite seems to be bottomless and smoothies fill me up more so than juice. However, I can see myself adding juices to complement my daily meals and filling in any nutritional gaps with nutrient dense drinks in the near future.

I've never broken any bones. Knock on wood, I've made it 33 years so far!

I was born and raised in Wheaton so it's a special place to me. My parents and two of my sisters still live there so I visit often, always including a Whole Foods or Extract Juicery stop while I'm there!

The boys have taken control of my playlists mostly requesting songs from Minions and Paw Patrol but I love country music and put on the Ben Rector station when I'm alone!